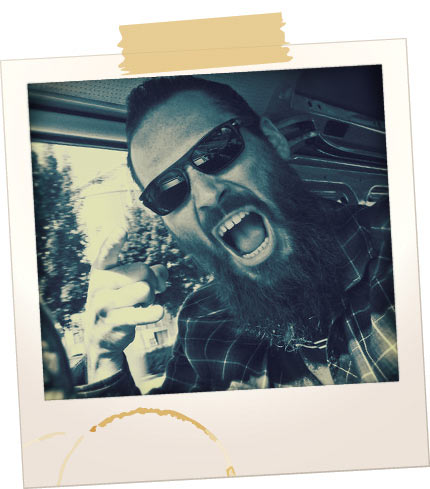 "Nine Lives ALEX"
did the cover for our second E.P. "
Six City Songs
", and also designed our famous "
S*ZE" tee-shirt
. He's a
talented graphist.
He also takes care of merchandising with us on the road. He plays in a band called
HOT CHIBER'S.
But most of all he's a good friend of us. He's really smart, kind, and adorable. He leaves very soon for Montreal. We're sure he's gonna love this wonderful city, as Montrealers are among the most kind people on earth.
Alex, we already miss you. And if you don't come back, don't worry, we'll come to you. Enjoy, Alex !
-----------------------
----Favorite record ?

LYNYRD SKYNYRD "pronounced 'lĕh-'nérd 'skin-'nérd"/ METALLICA "Kill 'em all" (it's the album i listen more often)
-----Best show ?
All
NASHVILLE PUSSY
shows, especially at the Ninkasi (Lyon, France) on febr.27th 2010.
-----Your idol ?

Blaine Cartwright, Ilove this guy, Johnny Cash, James Hetfield and Cliff Burton.
-----Your hangover remedy ?

Maybe hide all my bottles of S*ze and wait to feel better.
-----Worst thing a woman ever told you ?

Your deodorant stinks!
-----Next tattoo ?

Certainly an old-school american tattoo: Skull head, snake, eagle, shark or a navy anchor.
-----Any stocks in Wall Streets ?

I had bet on Cris Cornell's carreer, but I lost everything.
---- Do you think man really went on the moon ?

Yes...
----- What do you wanna say about your work with us ?

It was really easy and fun to work on the "Six City Songs" artwork, I felt really free to do what i want.
I learned a lot and met good people! Let's start again !